Intuit Payment Solutions

Even though there are many independent bank merchant service providers, there are none that integrate as cleanly as the credit card processing options from Intuit. Whether you are handling "Pre-auth" transactions, standard sales authorizations, or customer refunds, the credit card options within QuickBooks are exceptional.
The best part is that you can extend your services to include GoPayment, which allows credit card authorizations through SmartPhones. Using GoPayment, you can process credit card transactions at trade shows using your phone, with e-mail receipts sent directly to your customers. Best of all, the transactions will upload to your QuickBooks software – pretty slick, right?
For more details, contact one of our payment partners and we will arrange for one of our payment experts to determine your eligibility and also to qualify your merchant services rate.

Top
---

Tableau Software


If you are creating extracts of QuickBooks data in Microsoft Excel, or the custom reporting function in QuickBooks Enterprise 2011, you will absolutely be blown away by the data analytics functionality within Tableau Software. CFO Magazine reporters have this to say about Tableau:
"In terms of generating useful, multidimensional visual analysis, it's like going from an Etch-a-Sketch to Industrial Light and Magic. Quite simply, it's the best piece of software CFO has run across in years."
What is Tableau Software? Tableau is an amazing data-analysis tool for both beginners and advanced sales modeling teams. With just a few clicks, beginners can see their data in new dimensions. Graphs and time dimension analysis are notoriously cumbersome to create within spreadsheets and report writers, but this software tool creates these in just a few clicks with unmatched ease of use. The best part is that once you create and save a multi-worksheet analysis as a workbook, you just refresh the data and … voila, the entire analysis is completely up-to-date!
Our staff has been building bridges since 2008 that allow accounting users to analyze their historical sales using Tableau. The sentiments of CFO magazine are not exaggerations. We think Tableau is the most impressive business software introduced since the early days of spreadsheets.
If you want to unlock the information within QuickBooks to really manage your business, then Tableau is the next tool your business needs to acquire. Call us for a free 15 minute demonstration.

Top
---
Transaction Pro Importer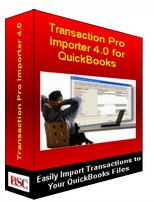 This software tool has the ability to import transactions, such as online orders, as well as lists, into QuickBooks, with field-level mapping and grid-data edits.
If you need to create new QuickBooks data files from lists or import transactions into QuickBooks, look no further than Transaction Pro Importer (and Exporter) from Baystate Consulting. Unlike IIF imports, where you cross your fingers and pray when you click on the Open button, Transaction Pro Importer offers an import wizard that prompts you through screens with the following features:
Import from Tab Delimited, CSV, or Microsoft Excel Files
Add or Do Not Add New Customer, Vendors, Items, or Employees
View, Edit, or Delete Data in a Grid Format before Completing the Import
Save Custom Mapping for Easy Reuse
There are many other advanced features that make this import the tool of choice for advanced QuickBooks users. When you need to import data or help acquiring the product QuickBooks experts prefer, contact one of our partners.

Top
---
CCRQInvoice


Do your business transactions require features such as:
Calculating the weight of an order?
Creating a total count of items on a QuickBooks order or invoice?
Needing to total a custom field that displays on an order or invoice?
If your business requires these features, you need to call Syllatrex for assistance in installing the QuickBooks Compatible Software CCRQInvoice software. This software will read and write your QuickBooks files to provide total weight by item and total weight for the order – a handy tool for estimating shipping costs. The support team for CCRQ is one of the best we have encountered with thoughtful and insightful information from  top shelf QuickBooks professionals.
When your customer service staff needs to know the weight of the order to calculate shipping costs, CCRQInvoice is the tool for you!

Top
---
QuoteWerks

If you love the functionality within QuickBooks, but need more sophisticated quotes to send to your prospects, consider adding QuoteWerks to your business software library. Built to integrate with CRM and accounting software, QuoteWerks creates elaborate quotes with PDF image attachments, boilerplate text, and even configuration tables to prompt for product options.
Best of all, your sales staff can have access to a central database of quotes without giving all of them access to your accounting environment. Accepted quotes can be sent dynamically to QuickBooks as estimates, orders, or invoices – resulting in a more streamlined system within QuickBooks – where only accepted estimates become part of the system. You can optionally create a QuickBooks purchase order from your quotes.
Recently, one of our customers customized the QuoteWerks-QuickBooks interface to reject quotes that would cause the customer to exceed their credit limit within QuickBooks.  Pretty sweet, right?
If your business needs a professional quote image and feels that QuickBooks cannot produce it, stop creating quotes in Excel and re-keying them into QuickBooks later on. Call us for a QuoteWerks-QuickBooks demonstration.

Top
---
ShipGear

If you are one of the millions of businesses that use QuickBooks and UPS WorldShip, you need to consider using ShipGear Software to add UPS freight and tracking information onto your sales orders and invoices directly from the UPS WorldShip software.
This handy add-on product will pull shipping information into UPS WorldShip using your QuickBooks order or invoice number. No more re-keying or using old addresses stored in UPS WorldShip! After the UPS shipment is complete and labels are generated, ShipGear can send the freight information directly back to your QuickBooks order or invoice with the tracking information.
Wouldn't you like to be able to see the tracking data on the invoice for historical reference?  Or on the invoice you e-mail to your customer to reduce inbound calls about order tracking? To find out how, please contact us today.

Top
---
SourceLink

With this nifty add-on, you will be able to attach scanned images of invoices to bills you enter into QuickBooks, as well as attach shipping instructions to customer records within QuickBooks. By simply using an inexpensive scanner and this 3rd-party add-on, you can use SourceLink software to attach virtually any information to your QuickBooks lists or transactions, such as:
Microsoft Excel Files or Microsoft Word Files
Customer Credit Applications
Customer Shipping Instructions with their Shipping Account Number if necessary
Adobe PDF Files
Detailed Parts, Pictures, and Lists
Exploded Images of Assembled Products
Product User Guides
Unlike QuickBooks 2010, which supports attachments and images in the cloud, SourceLink creates and uses attachments housed on your data server or workstation. You can attach, detach, view, and e-mail linked documents in QuickBooks with a click of the mouse — and the process of linking documents is as simple as adding an attachment to an e-mail.

Top
---
TimeClock Plus

If you need robust attendance and time-tracking for numerous employees and you pay these employees through QuickBooks, look no further than TimeClock Plus. This independent software program uses an SQL database to allow employees to clock in and clock out on a time clock or a Windows network terminal. Employees can indicate the job they are working on and time-by-job can be passed through to QuickBooks Timesheets for use in calculating payroll.
Managers can review and approve hours in TimeClock Plus before they are sent to payroll. There is some front-end setup that needs to be done to link employees, pay codes, and jobs beforehand, but the detail tracking of hours to jobs within QuickBooks is awesome. We recommend that you export the time to QuickBooks on a daily or weekly basis. We have experience in a light manufacturing company who is tracking time for up to 75 employees across 20 jobs a week that provides detailed job information to payroll.
If you have the need to track detailed hours by job, call for a TimeClock Plus demonstration.

Top
---
MISYS – Manufacturing Add-on for QuickBooks

Let's face it, QuickBooks is an awesome accounting product but not the best solution for handling the pure manufacturing needs of a lot of companies. Yes, you can customize the bill of materials on the fly in recent releases, but there are still many needs of manufacturers that QuickBooks does not address adequately. If you are a manufacturing firm that needs sophisticated management and planning tools for purchasing materials and managing work in process, consider MISYS. This 3rd-party add-on product can acquire production demand from the orders placed in QuickBooks and create the perfect environment for planning, executing, and completing the production process.
MISYS manages WIP and QuickBooks handles accounting and order fulfillment. Everything you need to manage production occurs within MISYS:
Multi Level Bill of Materials (BOM's)
Inventory Raw Materials
Assemblies
Revisions
Stock Checks
MRP with Time-Based Order-Fulfillment and Purchasing
Work Orders and Work Order Tracking
Manufacturing Orders With and Without Customizations from the Basic Bill of Materials
Shop Floor Control
Tooling

MIYS is a perfect fit for build-to-order and custom manufacturers who use QuickBooks and provide the following benefits: integrate manufacturing and accounting, reduce inventory costs, eliminate purchasing errors, improve productions, manage shop floor processes, and analyze costs more accurately.
Top
---
ESC Service Software

If your business provides customer service using field technicians and dispatches, ESC software from dESCO should be evaluated for your company.
ESC is the best field-service software complement to QuickBooks. It offers the following business functionalities:
Technicians
Skill Levels
Crews
Service Request Codes
Dispatch Board
Service Agreements
Billing Codes
Equipment History
You can track your service technicians using GPS technology and have them create invoices remotely that will update ESC and then transfer to QuickBooks.  ESC will allow technicians to perform tasks at different billable and cost codes. If your business needs full-service dispatch and operations that QuickBooks cannot address, call to schedule an ESC demonstration for you.

Top
---
Intuit Data Protect

Intuit Data Protect is a new backup service that fully integrates with QuickBooks 2011. This Intuit-based service creates remote backup of your QuickBooks data and even your entire PC for up to 45 days. Intuit Data Protect is a subscription service (no additional charge for full service plan customers!) that helps you protect your data from loss or damage caused by a virus, theft of a laptop, file corruption, fire, etc. Your files are automatically backed up online over the Internet once a day, every day, to an offsite location. You can choose to backup just your QuickBooks file (Company Data plan), or you can backup multiple QuickBooks files and any other data on your computer (Entire PC plan). Each backup is stored for 45 days, so you can restore the most recent 45 days' worth of data if you ever need it – but let's hope you never do!
The Intuit Data Protect service provides status alerts on the QuickBooks home page so that you always know that  your data is protected. With a choice of service-plan options, you can focus on the data you need to protect without worrying about storage limits. You also get enhanced backup capabilities that let you back up files while you're using them. And it's easy to restore data if you need to. Data Protect works with QuickBooks 2011 only, but QuickBooks Online Backup works with all versions of QuickBooks. You can run both services concurrently, but there's no reason to have QuickBooks Online Backup if you're using Data Protect.
Intuit Data Protect does not currently offer a Web Restore feature like you will find in QuickBooks Online Backup.


If your business can benefit from any of these add-on products, please contact Syllatrex for more information.